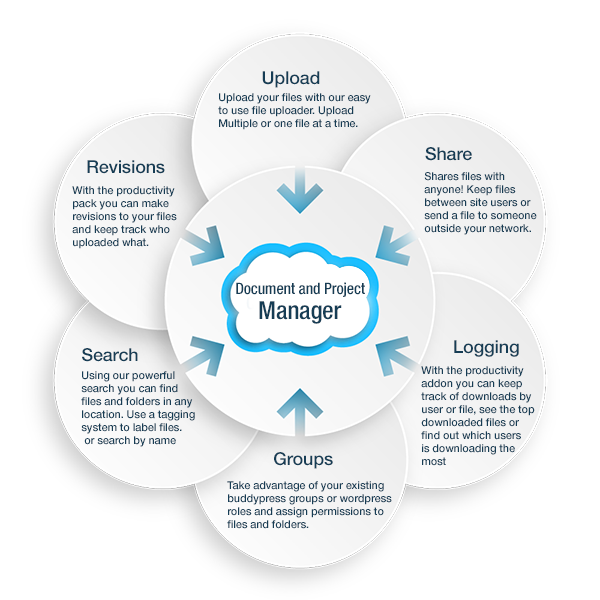 Smarty Plugins has released the WordPress client document and project manager, Here are some uses and features.
Smarty Pant's Document and Project Manager is a WordPress plug-in that allows your business to manage client files and projects securely. Designed for Businesses and Organization that require clients to send files and those files need to be managed or assigned to Supplier's, Vendors, Sub-Contractors or internal staff. The Smarty Pants Document and Project manager has application across industry lines.
SP Client Side Features: Your Clients upload files on their own personal page and create or add to existing projects. They have the ability to choose multiple files, delete uploaded documents and automatically zip multiple files. You will need to install User login with help from "Theme my login". Clients and Customers can search by file name and they have ability to allow deleting and renaming of projects. Language conversion  to multiple languages using the .po files.
Administrator Side Features: Administrator has complete control on who can access specific client or customer files. You a Notified via email when a client uploads a file. The Administrator can add files and documents to client page and projects, Download file archive of a user, custom naming of files and create multiple upload locations. The 50 latest client uploads on main plugin page will appear. You can force downloads of file. Delete confirmation with custom notification and thank you confirmation with custom notification. The Administrator can add staff, supplier's, vendors, sub-contractors or partner's so you can distribute the files to other people or organization. You have the option to attach file or send the file as a link. Projects allow you or the users to create projects to store files in. You can allow the user to create projects and as the Administrator you have the ability to add files to any user and can download all the files of a project in a single zip file.
Premium Features
Customized and name the forms field that you want your client to see and fill out to your customer upload form. You can view then in the file view page or in admin. You have the ability to search by tags to make your life easier. The categories allow an admin to designate categories for the user to select, for example a print company could use categories as statuses (Mockup, Draft and Final). Create and send out custom notifications to all.
You can set up auto deletion of files based on a time you set. Thumbnail view mode for a windows explorer type look and feel. Automatically-create thumbnails of PDFs and PSDs (must have imagemagick installed on server)
File versioning system, don't lose old versions.
We provide Full Support through email or Skype, we are available Monday thru Thursday 10am – 4pm EST.